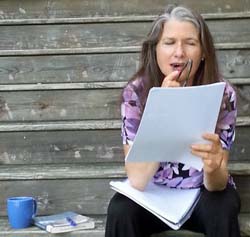 I'm actually being what my kid self said she wanted to be when she grew up -– "a teacher and an author." That's what it says on the back page of the Scholastic Weekly Reader from third grade that my mom found in her attic.
Over the years, I only sometimes remembered my calling. I edited a legal journal and did my own writing on the side. Then I managed a rustic resort in the Caribbean and wrote when the guests did not need me. Other responsibilities got in the way of becoming a teacher. But then I decided to prioritize my writing and seek an MFA at the New School. As I was writing my thesis in creative nonfiction, it occurred to me to propose a course on different ways to write illness narratives. The New School said yes.
That was ten years ago, and my days filled with writing, coaching, and teaching make me feel extraordinarily lucky. Working one-on-one with clients teaches me all the time: to listen closely to what's said and more deeply to what can't yet be stated; to improvise when a particular approach doesn't fit; to lubricate the work with laughter; and to think of obstacles as opportunities to go deeper and teach and learn more.
My coaching clients thus far have included a wide range of people:
* a tech expert who thinks visually and needed to come up with a flow-chart to translate the images in his mind into words
*a poet/anthropologist whose memoir in poems about the day his wife slid to her death down a cliff in the Philippines will soon be published ;
* a young man with Asperger Syndrome who likes to write tributes to Fred Rogers;
*a filmmaker whose project, set in Afghanistan, illuminates the space between surveillance and bearing witness;
*another filmmaker who's writing about her childhood in Japan as the daughter of missionaries and the sense of shock and responsibility that reverberated through her life after she learned about the atomic bomb.
In terms of my own writing, I'm currently researching L.L. Zamenhof, who invented Esperanto (a multi-national language) in 1887, to promote peace among people from different countries. His story will ground my more personal vignettes about communicating and connecting (or failing to connect) with others.
When not coaching or writing, I can be found walking my Scottie on a Brooklyn beach (there are at least three!) or browsing the used books and clothing at one of Housing Works stores or looking for a quiet café with strong coffee.